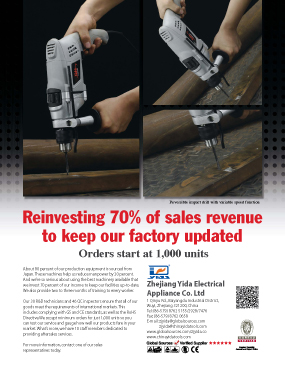 Share:




E-mail

Print

Bookmark
Zhejiang Yida Electrical Appliance Co. Ltd

Follow me

Reinvesting 70% of sales revenue keeps our factory updated

Serving Black & Decker, Ryobi and JCB | 67,000sqm factory | MOQ: 1000 units

6 Star China (mainland)

Credit Check - Supplier Credit Profile

provides impartial credit and vital business metrics for select suppliers on Global Sources Online. Using the Credit Check reports, buyers can easily compare key indicators and more efficiently manage risk. Suppliers with a Credit Check logo have agreed to allow this information to be reported to help buyers streamline the selection and due-diligence processes.

The supplier information below has been obtained from relevant government agencies in the supplier's country and is subjected to change without prior notice. Credit Check and verification procedures were conducted by Sinotrust, a third-party credit agency.
Read Disclaimer


Registered Address:
Baiyangdu Industrial Zone Wuyi County
China

Incorporation Date:
February 08, 1999
Legal Form:
Limited liability company
Company Status:
Live
Registration Agency:
Wuyi County Administration for Industry and Commerce
Registration Number:
330723000015416
Authorized Capital:
RMB25,180,000
Paid-Up Capital:
RMB25,180,000
Legal Representatives:
CHENG Zhigang
Import & Export Licences Obtained:
Yes
Business Scope:
Manufacture, processing and sale of household electric appliances for ventilation, electric tools, manual tools, pneumatic tools, fitness equipment, electronic products 'excluding satellite ground receiving facility); import and export 'those requiring earlier setup approval or special approval are subject to the related permit'
Business Permit Expiry:
February 07, 2019
Shareholders:
• CHENG Zhigang
• CHENG Xuan
• JIANG Weishe




Want a more detailed Credit Report on this supplier?



Authenticated and verified by:
Sinotrust


On February 09, 2011

Contact Details




Zhejiang Yida Electrical Appliance Co. Ltd
No. 1 Qinyu Road
Baiyangdu Industrial District
Wuyi
Zhejiang
China 321200
Tel: (86 579) 87627476 (86 579) 87627478
Fax: (86 579) 87620658


E-mail:

Homepage Address
http://www.globalsources.com/zjyida.co
Other Homepage Address
http://www.chinayidatools.com




Key Contact:
Mr Cheng, Zhigang
General Manager



Supplier and product information updated December 11, 2013.
Verified Business Registration Details
Registered Company: 浙江意达电器有限公司
Business Registration Number: 330723000015416
Company Registration Address: 武义县白洋渡工业区


* In some jurisdictions, company names and addresses are registered in Chinese only.